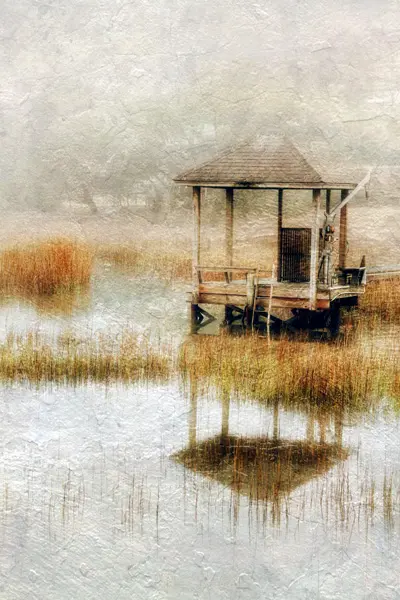 Christine
Patterson
grew up in the hills of Tennessee. Her early years were consumed on her mothers horse farm developing a connection to both horses and nature. In her twenties, she was introduced to photography as a way to chronicle her daily life on the farm.
This passion grew to an insatiable quest to bring her images alive through experimenting in the darkroom to unconventional methods of photographing. Her love for infra-red black and white film brought a new language to her work delving into veiling her subjects and layering images to create more of a story of mystery and nostalgia.
The next thirty plus years were dedicated to learning as much as possible through research, workshops with prestigious photographers, to becoming full time. She has been in numerous galleries, featured in numerous magazines, published two books, became Tennessee's Bicentennial photographer, has been collected world wide and is in numerous corporate institutions, museums and private collectors homes. She has earned, over the years, a reputation as an alternative and mixed media fine art photo_impressionistic artist.
In 2017, Christine and her family moved to the shores of South Carolina. This move ignited a long time passion in the painting world due to the new environment of color and energy that the coast provides. During the pandemic, Christine chose to put her fine art photography on hold and dove into her long time passion of painting by enrolling in a very prestigious on-line school. Following the pattern of her early years with photography, she has become immersed in the painting and drawing world and continues in her education.
She is highly engaged not only on social media but within her community. She has a photography and art business running out of her home, as well as a painting studio at Redux Contemporary Art Center in Charleston, SC.
Christine is a private art coach and also teaches creative workshops.
Current Gallery Representation
Past Gallery Representation
Museum & Public Collections